Feb-28-2012, 03:17 PM (UTC)
These beings decided to share their physical bookshelves.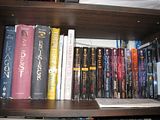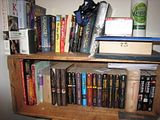 The latter image is based around a crate of trench dynamite.
Note:


when 'thul write in all

italics

, it is the lord of the three realms within 'thul speaking. A fairly egoistical, but also somewhat simple-minded dragon. Do not take such posts at face value.
__..)/..____________..\/..____________..\(..__
¯¯""/(""¯¯¯¯¯¯¯¯¯¯¯¯''(''/\'')''¯¯¯¯¯¯¯¯¯¯¯¯"")\""¯¯
"Its for charity. Widows and orphans. We need more of them."
__..)/..____________..\/..____________..\(..__
¯¯""/(""¯¯¯¯¯¯¯¯¯¯¯¯''(''/\'')''¯¯¯¯¯¯¯¯¯¯¯¯"")\""¯¯